Guilty: Jury convicts Babcock after 5-day trial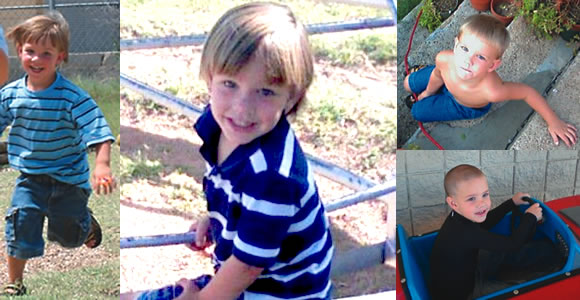 Editor's Note: Readers are forewarned that the following article includes graphic details of abuse that caused the death of Chance Mark Jones last year.
By Roger Estlack, Clarendon Enterprise.  © 2012.
Robert Babcock began his life sentence in state prison this week for killing his four-year-old son, Chance Mark Jones, by beating him to death last year at his rural residence southeast of Clarendon.
A Hall County jury of six men and six women deliberated for nearly an hour and a half in Memphis last Thursday, June 7, before returning their unanimous verdict that Babcock is guilty of capital murder, and District Judge Stuart Messer pronounced the sentence of life without the possibility of parole.
"This verdict screams out justice for Chance," District Attorney Luke Inman told the Enterprise. "It closes a very important chapter in Chance's life and for the people who truly loved and cared for Chance."
Babcock showed no emotion as the verdict and sentence were read nor when family members addressed their emotions and their feelings about him during the allocution following sentencing.
"He was a remarkable and intelligent little boy who touched everyone's hearts with his beautiful smile," said Heather Hill, who had raised the boy as her own son for about two years, before he went to live with his biological father. "He was so full of life and enjoyed every moment spent with the ones who loved him the most…. Chance thrived on love and affection, why would you have ever caused intentional pain and harm to a child who immediately called you, 'Daddy?'"
The jury's decision concluded a trial that lasted five days and closed a case that prosecutors, law enforcement, and the community had agonized about since Babcock called 911 on the morning of January 4, 2011, and reported his son was unresponsive. Jones died the next day at Northwest Texas Hospital in Amarillo.
The first gruesome details of Jones' injuries became public during the first two days of testimony, Thursday and Friday, May 31 and June 1; but jurors learned even more horrifying details when the trial resumed Tuesday, June 12, and were not swayed in Babcock's favor when the defense tried to present its case later in the week.
DAY ONE
Five witnesses were called to the stand Thursday, May 31, in the first day of testimony in the capital murder trial of Robert Monroe Babcock.
In his opening remarks, District Attorney Inman told the jury that he would lay out the case that Babcock had hit his son for lying and for not tee-teeing in the toilet properly, beating him from his head to his toes and even putting his head through a wall.
"[Chance] couldn't fight for himself, but you can fight for him," Inman told the jury before calling the state's first witness.
Jurors spent the morning and part of the afternoon hearing the testimony of Donley County Sheriff Butch Blackburn as he recalled going to Babcock's residence southeast of Clarendon on the morning of January 4, 2011, after the defendant called 911 and reported his four-year-old son was non-responsive.
Inman played the recording of the 911 call during which Babcock said the boy had been ill and that he hit himself. After getting EMS en route to the residence, dispatchers told the defendant how to perform CPR on the child, which he was doing when Sheriff Blackburn arrived.
Blackburn testified that he immediately observed that the boy had been severely beaten, and jurors listened and watched more than two hours of a recording of the sheriff and Chief Deputy Randy Bond interrogating Babcock, who admitted to them that he had struck the boy in the head and stomach to discipline him but maintained that the boy's most severe injuries were self-inflicted.
Jones died the next morning at Northwest Texas Hospital in Amarillo. The investigation and the interview played for the jury indicate that Babcock physically abused Jones from December 24, 2010, to January 4, 2011.
Jurors also heard testimony from Chief Deputy Bond regarding Babcock's demeanor that morning. Bond said that the child appeared to him to have passed away but that the defendant was "calm and cool."
"He showed no emotion which meant to me he was more worried about the trouble he was in than the condition of his child," Bond testified.
Under cross examination by defense attorney Dale Rabie, Bond said he was unaware at the time of any head injury that Babcock had previously sustained and admitted that he had told the defendant he thought he should "knock his mustache off his face."
Questioned by Inman about that comment, Bond explained his remarks.
"I had asked him his name and he got smart with me," Bond said. "I told him I already knew what he did and don't get smart with me and that's when I said it."
The jury also heard from Donley County Paramedic Blaine Burton and emergency room nurse Amanda Trujillo about the horrifying nature and severity of the injuries Jones suffered, which they both said could not have been self-inflicted.
The medical witnesses said Jones had facial swelling; old and new bruising around his eyes; an injury to his head; a knot on the right side of his chest "the size of a baseball;" a distended and bruised abdomen with a knot "the size of a tennis ball;" and black and blue bruising to the groin, penis, and scrotum. Witnesses also notice injuries to Jones' legs and cuts on his hands.
Burton said Jones' eyes were swollen shut and that his eyeballs had a "weird sleepy look," and he said the EKG showed Jones heart was not beating when paramedics arrived.
"We did get pulses back and did get blood pressure as we returned to the ambulance," Burton said. "But we lost pulses after a minute or so."
Burton said Babcock did not appear upset and when asked what happened at first said he didn't know and then told him that the boy had done it to himself and that the "kid has anger issues."
Under cross examination, Burton was asked if he had ever seen a witness in shock.
"Not when it is a child," Burton said. "I have seen frantic mothers and fathers when it's a child."
The final witness of the day was Paula Blackburn, owner of Paula's Daycare where Jones received afterschool care for two weeks before the Christmas break. She testified that Jones was a happy child who exhibited no discipline problems and that she saw no signs of abuse in the two weeks that he was at her facility, which ended on December 22.
Mrs. Blackburn said Babcock called her on December 26 and told her he was going to keep Jones at home over the rest of the Christmas break because he was having some discipline issues and wanted to spend time with the boy.
"I told him just to love him and be patient," Mrs. Blackburn said.
DAY 2
Prosecutors showed photos of a bruised and battered four-year-old Chance Mark Jones at day two of the trial on Friday, June 1.
The pictures were presented during testimony from Texas Ranger Jamie Downs, who had gone to see the boy in the Northwest Texas Hospital emergency room in Amarillo after he was contacted by Donley County Sheriff Butch Blackburn that Tuesday morning on January 4, 2011. When he arrived at the hospital, Downs witnessed the condition the boy was in.
"It looked, from my time in the highway patrol, like someone had been in a car wreck," Downs testified. "His injuries to his head and abdomen looked severe."
An investigation would reveal that the boy's injuries had come at the hands of his father, Babcock, who had only had custody of the child for a few weeks after Child Protective Services had removed him from his mother's care.
Downs said he took 15 pictures in the moments before Jones was taken to surgery, and photos presented to the jury show a nude Jones with bruises to his chin; swollen and bruised eyes; a contusion on the forehead; bruising on the chest, abdomen, and genitals; and a distended abdomen with a partially hexagonal bruise. Jones also took notice of cuts and bruises to the boy's hands and bruises on his legs.
Later that day, Downs would go to the Babcock residence southeast of Clarendon where he would collect shirts, SpongeBob SquarePants pajama pants, and bed clothes from Jones' bedroom all with small blood stains, and he took notice of a circular hole in the laminated drywall near Jones' closet door – damage that would eventually take center stage during the trial last Friday.
Jones' died the next morning, January 5, and Downs, along with fellow Texas Ranger, Jay Foster, interviewed Babcock that afternoon at the Donley County Sheriff's Office. Babcock told the Rangers that he had seen the boy get some urine on the bathroom carpet while using the toilet the morning before. He said he had become angry about that, confronted the boy, and shoved him, causing the back of his head to strike the wall.
"He didn't cry; he's a tough kid," Babcock said in the interview.
Jones sat on the floor for a bit, Babcock told the Rangers, and then got up and said he wanted to go back to bed. The father pulled a blanket over the boy, and then stepped outside to take a phone call. When he came back into the room 30 minutes later, the child appeared to be dead but was actually breathing a little.
A civil engineering professor from West Texas A&M University, Dr. Kenneth Leitch, conducted an impact analysis on a wall sample from the boy's room and samples of a similar wall material. Leitch, who has a background in test crash research, told jurors Friday that his tests showed Jones would have suffered a "moderate but survivable injury" from the force with which his head had hit the wall… if that was his only injury.
But that was not Jones' only injury. Investigators say Babcock began abusing his son on Christmas Eve and continued beating him right up to January 4, when Babcock, after first thinking Chance was dead, called 911.
The only person to see Jones during that abusive time – other than Babcock and his mother, Gayle Edes – was Tammy Overstreet, who babysat the boy on December 29 and 30. Overstreet told jurors that she noticed cuts on Jones' hands and a knot on his head and bruising under his eyes, but she said Babcock told her the boy had run into a table. When she asked Jones later what had happened, he repeated Babcock's story. But Overstreet also said Jones complained of his back hurting would sometimes grab his side.
Overstreet testified that Jones was a wonderful, sweet boy and that he played well with her nine-year-old son. She said Jones was playing in the floor with his legs partially under a bed when his grandmother, Edes, came to pick him up.
"He scooted all the way under the bed like he didn't want to go," she said, "but he came out when I said it was time for him to go."
Overstreet said she didn't report Jones' injuries because she had not seen any abuse happen and because Jones' story matched his father's, but she said she felt angry when she heard Jones had died and called the sheriff's office.
Jurors spent most of Friday afternoon listening to an audio recording of Babcock being interviewed by Rangers Foster and Downs, during which Foster testified that Babcock seemed to have full answers for all but certain questions, which indicated to Foster that the suspect was being deceitful. And the defendant's demeanor stood out also.
"He was not very emotional for having just lost a son," Foster said.
In the interview, Babcock sobs openly after learning about Jones' death, but then regains his composure. By then end of the more than two-hour interview, Babcock told investigators he was anxious to get out of jail on bond so he could get back to work – if he still had a job, he said – and even joked that he would not be fleeing to Canada because it was too cold there.
Babcock told the Rangers that he had been thrown into being a father and said that he had trouble with his son pointing with his middle finger – which the father told the boy would get him in trouble later in life and for which he would spank the boy's hand. He said his son would lie to him, claiming to not be hungry when Babcock thought he must be. For that, Babcock said he spanked his son.
But on December 24, Babcock began losing control over these incidents, and he told Texas Rangers that he would slap Jones, lift him by his jaw to put the boy on a counter, and would sometimes punch the boy. Babcock said he kept calling family members and CPS for help with the boy but said no one helped him. When pressed by the Rangers, he admitted that he did not tell his brother or sister-in-law or CPS that he was losing control. He said his mother did take the boy for a day and "got on to me," but he said she did not mention calling CPS because "her generation didn't do that."
Babcock said he did not take the boy for medical care because he was afraid Jones would be taken away from him. Rangers said they could understand Babcock, as a new father in a difficult situation, losing control once, but after that Foster said "human decency" required Babcock to get some help for the child.
During the interview, Babcock said he took full responsibility for Jones' injuries and knew he should be punished.
"I don't want to go to prison for the rest of my life but I deserve more than a slap on the wrist," he said.
DAY 3
Expert witnesses testified to the extent and severity of Chance Mark Jones' injuries when the trial continued last Tuesday, June 5.
Dr. Christopher Todd, a pediatric intensivist at Northwest Texas Hospital (NWTH) who has special training in child abuse cases, treated Jones in the emergency room after he was transported there by LifeStar last January. Todd again described injuries to Jones' head, abdomen, genitals, back, chest, face, and buttocks; and he said a CT scan showed that the boy's brain was injured and had moved from left to right and scans also indicated contusions and bruising of the lungs and other internal injuries.
"His injuries were the most extensive I have seen in my career," Todd said.
After a trip to the operating room to relieve pressure from the swelling of the brain, Todd said Jones was exhibiting signs of diabetes incipidus – a condition where the brain or pituitary gland stops sending the signals for the hormones that control kidney function. It is a condition that is not survivable, Todd said.
Dr. Wayne Paullus, a neurosurgeon at NWTH with 33 years of experience, performed the surgery on Jones and removed a portion of the boy's skull to relieve the pressure on the brain. He testified to the jury that Jones was in near death condition when he operated; and when he opened the skull, a blood clot was revealed and the brain was under such pressure that it "mushroomed out of the head."
Under cross examination by defense attorney Dale Rabe, Paullus testified that a head injury like the one sustained by Robert Babcock in 1993, which left him in an ICU for two weeks, could manifest itself with symptoms of headaches and seizures and possibly a Parkinson's type tremor. But the doctor could not testify about any specific symptoms exhibited by the defendant.
The state's next witness was Danielle Livermore, a sexual assault nurse at NWTH, who examined Jones after Paullus performed surgery on the boy. The jury was shown four graphic photos that Livermore took of Jones' injuries. She said she found no evidence of sexual assault, but she did document injuries to the child's genitals and cataloged about 100 injuries Jones had sustained in a five-page report that covered every part of his body from his head to his feet.
Livermore testified that she has conducted more than 1,000 exams in her ten years as a sexual assault nurse, and it was her opinion that Jones had been severely beaten. Inman asked her how many children she has seen in Jones' condition. "Chance is the only one," she replied.
Babcock had entered a plea of not guilty by reason of insanity, but also last Tuesday, a clinical psychologist from Lubbock, Dr. Philip Davis, said he examined the defendant on January 1, 2012, and that in his opinion Babcock, despite suffering from previous head injuries himself, was sane at the time of the crime and that he knew what he did was wrong.
The state's final witness June 5 was a Lubbock woman, who broke down on the stand as she remembered the four-year-old boy whom she had considered her son.
Heather Hill was a friend of Chance Mark Jones' family and had known him his whole life. But circumstances caused Jones to come to live with Hill when he was two years old, and her house was his home until Jones went to live with his biological father, Babcock, in Clarendon in early December 2010.
Through tears during part of her testimony, she asked the court to take down a larger than life-sized photo of Jones, which had been situated in front of the witness stand.
"I felt like he was my child," Hill told the jury.
Hill said Jones had a normal, happy home life that included fishing trips, playing in the park, and attending the pre-kindergarten class that she taught.
"We had a school routine during the week and family time on the weekends," she said.
Jones enjoyed school and loved playing with other kids, Hill said.
"I remember his humor," she said. "He was very loving and always told me he loved me."
But in late 2010, Hill contacted CPS and reported that Jones' biological mother had "knocked the crap out of the kid and knocked him down."  By Thanksgiving, there was an agreement that Jones should go live with Babcock at his home southeast of Clarendon. Jones seemed happy about the move, Hill testified, noting that he had become used to being moved around.
"I think he just thought he was going on a vacation and would be coming home," she said.
But Jones never came home. Babcock began beating his son on Christmas Eve and continued to do so right up through January 4. He told investigators and EMS that Jones had anger issues and that he had hit himself. He also said the boy lied and sometimes urinated on the floor. He later told Texas Rangers that he had caused most of Jones injuries.
Hill testified that Jones had never displayed any anger issues and never hit himself, that he was truthful, and that she potty trained him herself. She also said that Babcock never contacted her about having any problems at all with the boy.
After Jones went to live with Babcock, she never saw the boy again. She texted Babcock, but 75 percent of her texts went unanswered, she said. She said she called and asked to have Chance for Christmas, but Babcock told her "no."
"You have had him all this time," Hill recalled Babcock telling her. "Isn't it fair that my family has this time?"
Hill said she texted Babcock on Christmas day but got no response.
DAY 4, Part 1
The state opened testimony on June 6 by calling to the stand Dr. Thomas Parsons, a medical examiner from Lubbock, who concluded that blunt force trauma to the head was the cause of Chance Mark Jones' death last year.
Jurors reviewed four photographs from the four-year-old's autopsy, which showed injuries to the boy's head, a four-inch by five-inch bruise to the face, injuries along his jaw, and injuries all over the back, buttocks, and legs of the boy. Parsons also described injuries to the child's brain and genitals, and he said injuries to Jones' hands and arms could be consistent with defensive injuries sustained as he tried to fend off his father's attacks.
Parsons also said that if Jones had been vomiting the day before the 911 call, was unable to eat, was not playing, and was urinating in his pants, he may have already sustained a brain injury.
Texas Ranger Jamie Downs again took the stand as the state's next witness.  Downs had previously testified about interviewing the defendant and documenting the crime scene on January 4 and 5, 2011. But on January 8, Downs was at home preparing to watch a ballgame when he got a call from the defendant's mother, Gayle Edes, stating that Babcock needed to speak with him right away. Downs then traveled from Canyon to Clarendon, again read the suspect his rights, and conducted an interview with Babcock.
Jurors listened to a recording of the hour and half interview as Babcock first complained about the temperature of his jail cell and then asked about the financial condition of his employer, Taylor Petroleum – he had heard it was going bankrupt because of his case, and complained that Jones' family wasn't going to let Edes attend the boy's graveside service. He also said his mother told him that investigators had left his home in a mess. Then Downs told Babcock he didn't think he had come to hear concerns about how cold his cell was or about Taylor Petroleum, and gradually Babcock gave up more details about the abuse he inflicted on his son.
Babcock told Downs he had hit Jones five or ten times and worried that it had been too hard, and he said he had never used anything except his hands because he had feared his father's hand growing up. Babcock also said that "it always got his attention" when he would pick Jones up by the jaw and "throw him on the counter so we could talk eye to eye."
Babcock said he worked one day over the weekend and that Edes kept the boy that day, but he said he stayed home Monday because he woke up not feeling well. He later tells Downs that Jones was throwing up on Monday, January 3, and that Edes had brought him Pedialyte that day at lunch and more after work. Jones complained of a headache, and Babcock put an icepack on his head. Edes stayed at the house until about 9 p.m., Babcock told the Ranger, and she asked what had happened to the boy.
"I told her I got upset and didn't know what happened. She said, 'You've got to quit that,'" Babcock told the Ranger.
Downs asked Babcock what would happen to cause him to get upset.
"The only way I know I could have lost it was him lying to me," Babcock told the Ranger. "He did it constantly."
On the morning of January 4, after seeing Jones accidentally splash urine out of the toilet bowl, Babcock confronted him in the bedroom and ended up pushing the boy backwards into a wall. Jones then went back to bed. Several minutes later, Babcock found the boy "white as a sheet" and breathing real shallow. He then punched Jones with his fist five to ten times in the head. Afterwards, the boy quit breathing, and Babcock called 911.
"Were you trying to kill him?" Downs asked.
"No, I was trying to wake him up," Babcock responded. "I was very upset."
Downs asked again why Babcock had hit his son.
"Because he lied to me all the time," Babcock said.
"Other people lie, but you don't beat the hell out of them," Downs responded.
"He lied to me every day, all day long," Babcock said.
Following the playing of that interview and Downs' testimony, District Attorney Luke Inman announced that the state rested.
DAY 4, Part 2
Following lunch on June 6, Robert Babcock's attorney, Dale Rabe, delivered some brief opening remarks for the defense, telling jurors the case before them was a tragic one that had resulted in the death of Chance Mark Jones.
"Everyone grieves over Chance," Rabe said. "Robert Babcock grieves for the loss of his son, but people don't always grieve the same way."
He then said that the state had to prove that his client had "intentionally and knowingly" committed a crime and that he would offer that the state had not met its burden of proof.
The first witness for the defense was Shane Lance, a former Child Protective Services investigator who was put in charge of Jones' case when Heather Hill reported to the state that Jones' mother, Nancy Brown, was hitting the boy and his half-sister, then age two. Hill also said Brown was on drugs.
Lance told jurors that Chance told him his mother hit him in the head, leaving marks and bruises, and would hit him and his sister whenever she was mad. Brown admitted to Lance that she had done meth within 24 hours of him interviewing her in November of 2011. After Chance went to live with his biological father, Lance said CPS worker Christy White was to make a home visit to Babcock's residence and he said Babcock had requested counseling for his son as soon as possible because the boy reportedly said his mother's boyfriend had played with his privates.
Under cross examination by District Attorney Luke Inman, Lance testified that CPS had concerns about placing Jones with Babcock because he was a 38-year-old man with no experience with kids. But the state had no grounds to keep Babcock, as the biological father, from getting custody of the boy.
"I do remember him saying that Chance was a cradle of life and that he couldn't believe Nancy would ever hit him or hurt a child," Lance said.
Lance told jurors that Babcock never contacted CPS for help with parenting and never reported that he was having trouble controlling the child or was hitting him. Inman asked Lance what he would say if he were told that Babcock claimed to have contacted Lance's office numerous times to seek help.
"That would be a lie," Lance responded.
The defense also intended to call Babcock's mother Gayle Edes to the stand Wednesday, but her attorney had informed Rabe and the state that she was invoking her Fifth Amendment right against self-incrimination and would not testify.
The defense also intended to call Babcock's brother and sister-in-law, but Rabe said neither he nor the district attorney had been able to contact them.
DAY 5
The fifth and final day of the Robert Babcock capital murder trial began Thursday, June 7 with the defense calling Dr. Jahan Rasty, a mechanical engineer from Texas Tech University, to the stand.
Dr. Rasty reviewed impact tests that were conducted by West Texas A&M University on wall samples from the Babcock home to determine how much force was used to push Chance Jones head through a section of laminated drywall. Rasty had issues with the equipment and procedures the WTAMU engineers had used, and he concluded the impact would produce only a minor, recoverable head injury. But under cross examination, the district attorney asked what if the victim had already had a brain injury from the day before, and Rasty said the study did not take that into consideration.
The final witness for the defense was Dr. David Hagstrom, a medical doctor in private pain management practice, who had treated Babcock in 2000 under a worker's compensation claim after he had suffered a head injury by being thrown from a horse. Hagstrom testified that the defendant was taking Keppra to control seizures, and the doctor further testified that Keppra can have any of the following side effects: abnormal thoughts, hallucinations, memory loss, diminished emotions and moods, aggression, agitation, anxiety, apathy, increased depression, hostility, and irritability.
Under cross examination, Hagstrom agreed with Inman that a lot of drugs have those side effects but not everyone has the side effects. And while a person on Keppra might have an "I don't care" attitude, Hagstrom couldn't say the defendant had that side effect.
CLOSING REMARKS
Seeking to seal a guilty verdict, District Attorney Luke Inman reminded jurors of the pain and suffering that Chance Mark Jones felt in his final days.
"We will never know how many tears Chance Mark Jones shed the last 11 days of his life," Inman said. "We will never know the extreme pain he experienced. We will never understand the confusion he felt as he was beaten and punished by the hands of the defendant."
Inman portrayed Babcock as cold killer only concerned with himself and the tidiness of his home.
"He didn't mind slamming chance's head through that piece of wall, but he did mind when rangers took the wall from the home. Does this sound like grief to you?"
Inman reminded the jury of the abuse Jones suffered asked them to think how the boy must have felt as his father wails on him, and then later Inman went over the events of January 4 and how Babcock had put his son's head through a wall.
"He's not done with him," Inman said. "He's white as a sheet and barely breathing. But Robert Babcock is very, very, very upset because Chance pissed on the carpet and that's not the way to keep a clean home. Then he leans over and punches him at least five times as Chance sleeps or was unconscious."
Inman reminded jurors that Babcock had admitted to Texas Rangers what he had done was wrong and that he "felt like living shit," but he didn't get medical help for the boy because he didn't want Chance to be taken away from him.
"So he made it where Chance was taken from everyone," Inman said
Then as a projector displayed a picture of Chance Jones with a new Hot Wheels set at Christmas time surrounded by other pictures of his bruised and beaten body, Inman said flatly, "The defendant is not insane. You 12 have the opportunity to fight back for Chance.  Don't take a chance this ever happens again."
In his closing remarks, Rabe again called Jones' death tragic but said Babcock is not like everyone else and reminded the jury of the defendant's head injuries and asked them to consider if he has the mental capacity to know what he was doing.
The jury deliberated for over an hour before finding the killer guilty, and Judge Messer sentenced him to life in prison without parole.
Babcock has the right to appeal the verdict, but family members expressed tears that day because the four-year-old they loved so dearly now had received justice.
"I feel relief," Hill told the Enterprise. "I think Chance is probably smiling now."
Hill's fiancé, Andrew Brown, said the verdict won't take the pain away.
"It's over for now," Brown said. "We still have the pain, but at least he [Babcock] won't hurt anyone anymore."
Jones' great aunt, Vicki Harrison, said she thought justice was done in the case and said she appreciated everyone who worked on the investigation and prosecution.
Sheriff Blackburn said he was pleased with the outcome of the trial and recognized several parties for their parts in the case.
"I cannot show enough gratitude to the Hall County Sheriff's Office for their help and the members of the Hall County Jury who handed down the guilty verdict," Blackburn said. "I think the DA's office should be commended for all the hours they spent preparing for the case, and I want to thank the citizens of Donley County for their patience with the Donley County Sheriff's Office for being shorthanded during the trial."
Blackburn said Babcock was transferred to the Texas Department of Criminal Justice in Huntsville on Tuesday, June 12, and he said one more case remains in Chance Mark Jones' death.
"We've still got another case that is just as important in my opinion," the sheriff said.
Inman gave credit for the capital murder verdict to what he called "stellar law enforcement investigation."
"The Donley County Sheriff's Office handled this heinous offense with superb expertise from the moment the 911 call was made by the defendant," the district attorney said. "The sheriff's office was assisted by not one but two experienced Texas Rangers in Jamie Downs and Jay Foster, who conducted a meticulous crime scene investigation which resulted in evidence collection that were vital tools in this prosecution."
Although Babcock has been convicted, there is still more to come with regards to charges over Jones' death. Babcock's mother, Gayle Edes, is currently under indictment in Donley County and is charged with Felony Injury to a Child by Omission for her failure to get medical attention for Jones on January 3, 2011.
"Chance's story is not over yet," Inman said. "This book is not complete and the state will proceed forward on prosecution of all culpable parties in Chance's life."